Deep in the pages of Arsenic Lullaby is a particular Boogie Man, who is mostly a lowlife, lacking in any real ambition or enthusiasm and prone to conspiracy theories. While I haven't yet delved into what he does on his off time, I'd imagine it's spend writing lengthy crack pot … (read more)
Deep in the pages of Arsenic Lullaby is a particular Boogie Man, who is mostly a lowlife, lacking in any real ambition or enthusiasm and prone to conspiracy theories. While I haven't yet delved into what he does on his off time, I'd imagine it's spend writing lengthy crack pot letters to news and government agencies.

Technically speaking, I did some different things with this one than previous. Instead of the focus of the eye being the center of the composition, the moment flows through the center. Also, I tend to keep a constant muted tone with the coloring to let the line work take center stage and give it a school cartoonish look, but here I added some contrast, giving the base image more of a washed out look, bordering on black and white and gave the demons more vibrance. Gives it a real offbeat tone/mood, I think. I try to speak to the viewers imagination with my work, and in this case the viewer is in part viewing elements of someone else's imagination...one reality looking into another reality, imagining a reality?

Might be overthinking all that, but I'd say the end result turned out pretty well...however I came to it.

All inking done traditionally with brush and ink, coloring done digitally.

300dpi at 3165x2272dpi
3165 x 2272 px, JPEG (3.9 MB)
This is a signed and limited edition digital creation.
What does this mean?
Comments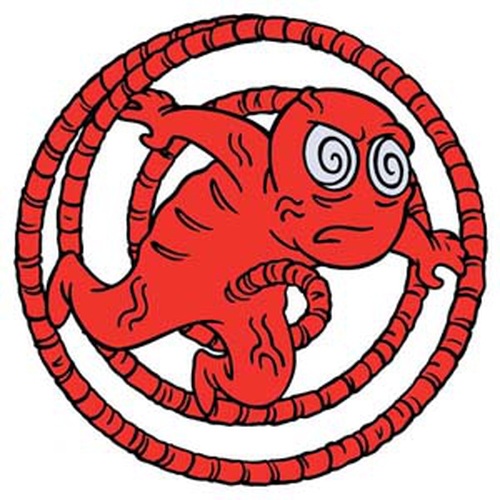 Big thanks and congratulations to @maxstealth for taking ownership of this one! I'm real pleased with how it turned out, & lately it's really been growing on me. colors & details work together well and the look on his face...I've been there XD
Next
Introducing Global Offers
A Global Offer is a single offer that is submitted to all owners of a multi-edition artwork. After one edition owner accepts the bid, the bid is processed and all other bids are withdrawn.