"The Musician" by Richard F. Yates
Mariah ("The Wife") saw this piece as a sketch---before I colored it---and said, "Is that like a potato-guitar?" Sure. Yeah. Potato guitar... (What the HELL is a potato guitar?)

I was going for some kind of undefined musical instrument / composer combo creature---and I don't know why there are several moons. … (read more)
Mariah ("The Wife") saw this piece as a sketch---before I colored it---and said, "Is that like a potato-guitar?" Sure. Yeah. Potato guitar... (What the HELL is a potato guitar?)

I was going for some kind of undefined musical instrument / composer combo creature---and I don't know why there are several moons. (Maybe this is a different planet? Maybe this is a musical piece that takes place over four nights? Maybe somebody who is watching the performance has a head injury or is really drunk and seeing quadruple? I don't know. I don't interpret this stuff---I just get it down on paper...or in this case on cardboard...)

[This piece is ink on reclaimed cardboard with digital embellishments and color. 2019.]

Not sure why the folks watching the performance through the windows above look so unhappy, either. Maybe they don't like the tune. Maybe this composer is some kind of musical genius and the number he's performing is too advanced for the folks who are witnessing it. (He'll probably be judged more generously by future generations...)

And that's what this piece is all about---I guess... (If you have a better explanation, feel free to share it with me! I'd love to know what it REALLY means...)

---Richard F. Yates (Holy Fool)
1080 x 1662 px, PNG (3.4 MB)
This is a signed and limited edition digital creation.
What does this mean?
Comments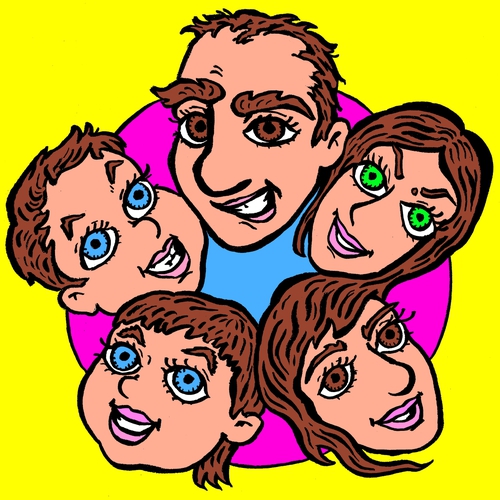 I have seen this piece a number of different times and every time I view it, it never gets old. Well done.
Wow great work and good collectable choice !
Next